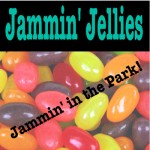 A rather big departure from the other projects included here, this is a children's album written by Mitch Marcus, Sylvain Carton, Sarah Marcus, and Mouzhan Yousefi-Carton.  All the music was written and inspired by Mitch and Sarah's son Luke. These were fun, casual writing sessions at the Marcus home in Berkeley while Luke was crawling around the living room.
The idea was spawned by Brian Marcus, "Grape", who would gently offer suggestions as to different themes for tunes.  The Jam n Jellies, Jammin in the park is a fun filled listening adventure.  Your kids will love it.  Your friends kids will love it .  Their friends kids will love it.  Guaranteed.
Noses
Monkeys!
Dream Big
Featuring:
Raspberry (Mitch Marcus) on keyboards, vocals
Strumbleberry (Sylvain Carton) on guitar, bass, vocals
Pomegranate aka pom-pom (Mouzhan Yousefi-Carton) on fiddle and vocals
Mint (Sarah Marcus_ ( on vocals
White Grape (Luke Marcus) – inspirational leader
Grape (Brian Marcus) – idea man
The whole album Jammin in the Park is available digitally below. Also, more coming soon!
http://sylvaincarton.bandcamp.com/album/jammin-in-the-park